During balik kampung last 2 weeks (ala...yg masa kenduri kahwin anak sedara tu), kami bawa mak melawat makcik kat kampung. then masa dah nak bali, mak mintak pokok ubat untuk kulit gatal. sambil2 menjengah pokok tuh, makcik tanya tak nak ke ambik pokok misai kucing sekali. waaah.. apa lagi. bersungguh2 mencabut pokok tuh.
sampai KL, esoknya i went to nursery dekat Tesco. beli pasu kecik ngan tanah. aih. tak bleh beli sikit la pulak tanahnya. kena beli satu beg besar. walhal yg nak pakainya seciput je. no choice la.
as i'm not a green hand type of person. tak penah menjadi pon kalo tanam pokok sbelum nih.
after menyiram pokok2 setiap hari selama seminggu. bila cek2 pokok weekend lepas, punya la melompat happy! ado daun baru kluar. he he he...seronotnya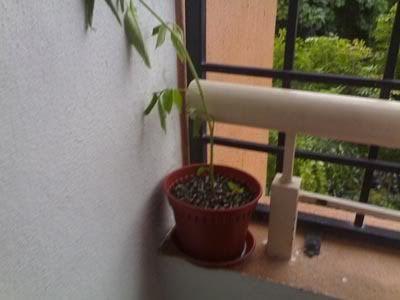 Ini pokok yang boleh ubat gatal kulit.
tak tau nama apa pokok utk kulit gatal tuh. 2-3 hari lepas cam condong nak menyembah dah. tgk weekend tu cam tegap sikit. mintak2 ler idup. cara nak ubat kulit gatal?
ambik daun... tumbuk2 dan campur ngan garam. kalo org tua, boh banyak garam. kalo budak kecik campur sikit je garam. pehtu lumur la paste tu kat kulit. insyaAllah kegatalan tu akan pulih. tapi kan.. nanti nak kena tanya Mak dulu berkesan ke tak yang dia pakai aritu :)

kang bila dah subur sikit baru nak transfer kat pasu besar. maklumlah..tanah ada se beg besar lagi :D