I wait.. and i wait. takde pon dia org ni upload gambar.
ok lah. 
this reunion took place on 31 May 2008. location was SOHO, Bandar Baru Bangi.
ex-classmate who attended the small gathering: 
Aini (ketua kelas sampai ke tua :D ) with wife and 2 kids
Pokku with wife and 1 baby
Mere with wife and 1 baby
Jari with wife and bro in law
Judin with his newly wedded wife
and
Me (i came alone.. he he)
Photos and some update:
Jari now works as a primary school teacher.
who would have taught this cheeky guy will graduate schools and become school teacher! we all laugh out until sakit perut. plus... he changed a lot! i don't think i will even recognise him if we ever bumped out kat tengah jalan. but one thing that remains, he is still funny as ever. and suka gelak :D.
Judin at the back and Mere infront
Judin now works in Banting and Mere works at Inland Revenue. haih.. have to stay away from Mere. he he. nanti dia kutip utang kang.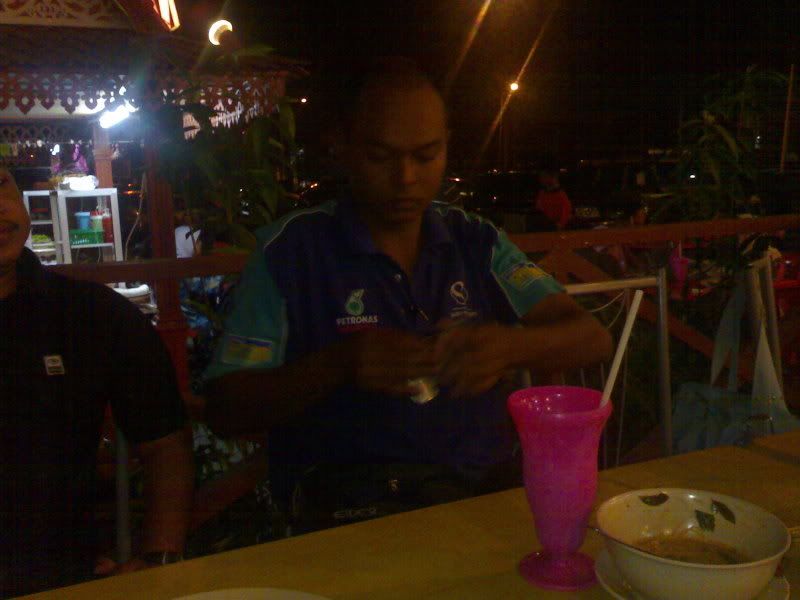 Aini still works at Civil Engineering company, buat highway. newly promoted as Manager.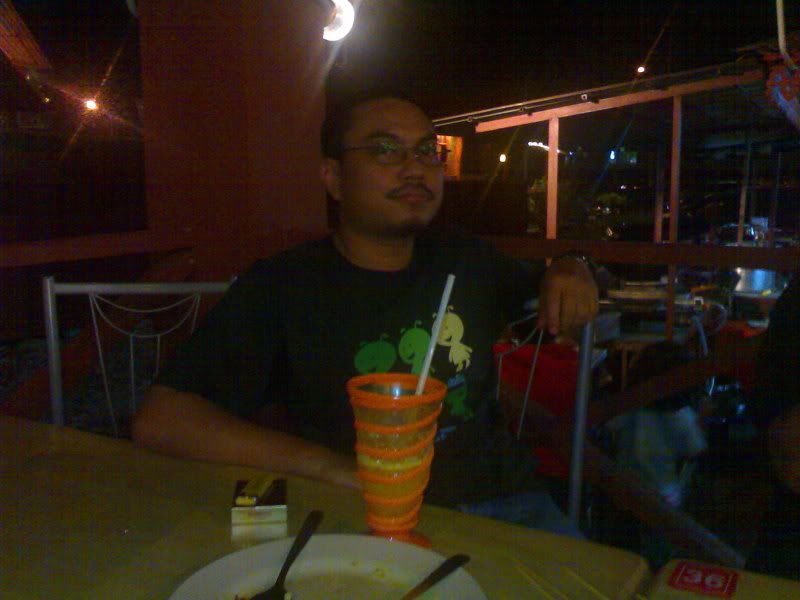 Pokku remains at Oil n Gas vendor in Taipan. last time we met... asyik berlawan tukar2 name card. we both kept changing company. ha ha
we met at 8.15pm and balik around 11.15pm. gile lama borak.
habis smua isu2 hangat masa zaman skolah kluar. including boys punya activity. hak hak hak. 
ada org ilang puting susu sebab kena mercun? ada yg kena iron atas blakang...kes gurau bewak? dasat laa.. boys ni memang takde tamadun :P
tak pasal2 smua seniors kena antar ke Kem Tangok. musti korang ni yg puncanya :P
so many things that we talk about. tapi tak bleh nak taip panjang2. i have to go sign buku rekod at my daughter kindies.
ta ta 
(just came back from record book signing and dental surgery..tengah sakit lagi nih)
Jari n Judin.. last time jumpa 2 org ni masa collect result SPM. which was in 1996. 12 YEARS tu tak jumpa.
Mere, Aini n Pokku .. jumpa la gak skali setahun. dia org ni slalu ajak jumpa makan2.
to Hygiene..antara yg kita org borak malam tu. saja nak buat korang jeles
girls and boys dalam kelas selalu benor gaduh. everytime gaduh je, musti aini set meeting time prep malam. ha ha ha
tah rasanya cam everyweek kot asik meeting utk selesaikan persengketaan je. 
sampai ada satu malam Meor tendang pintu divider kelas. 
'bo bo la meeting nya...prep....prep'
muahahahahahhahaha....nostalgia gile.
tah brape org yang kena lari kat padang maktab. sebab tak dapat markah yang memuaskan dalam sejarah? aku ingat la part yg cikgu sudin kata kalo tak dapat above sekian markah..kena lari kat padang. 
but the funny things is, aku tak ingat pon peristiwa lari kat padang tuh. ada 3 je sebab kenapa aku tak ingat nih...
1) Aku tak pegi kelas hari tu. sebab sakit (tu saja sebab yg ada pon utk ponteng kelas kat mrsm tu). tapi kan seingat aku.. ada skali je aku tak gi kelas sebab sakit. hmmmmmm tak ingat dah bila.
2) Aku dapat markah tinggi yang men disqualified dari didenda lari tuh >>>> THIS I DOUBT VERY MUCH. sebab aku tak penah cecah A pon utk matapelajaran sejarah.
so antara sebab (1) atau (3) la. sebab (2) tu memang miracle la. kah kah kah
Sejarah aaa yg mentarnish result SPM aku. chait.
Kesan from denda2 tersebut. our class normally score total highest mark dalam test Sejarah. except aku la.. yang selalu men spoil markah keseluruhan kelas. sorry la ek. allergic aa sejarah.
Kelas kita score Sejarah je la. Subject lain almost lingkup. hu hu hu ...
dah la..nak merehatkan gigi kejap. gigi ni baru lepas kena attack by dentist tadi. sakit sioooot.
esok ah citer pasal gigi pulak