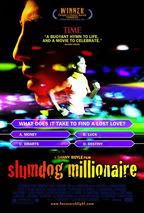 Watched it last nite.
i think this is the best drama movie i ever watched!
though masa start2 movie...my daughter start complaining...
'maaaaak... ni crita nustan... boring laaaaaaa'
lepas tu.. dia pulak yg melekat tgk movie tuh. maknya tengok sekejap2..sebab sibuk masak dinner.
storyline dia best. tunjuk how the boy membesar and how he stumble upon the answer of the gameshow throughout his life.
nanti nak kena tengok balik lah.. kes tengok sambil memasak. kind of lost macam mana dia jumpa balik Latika n berpisah balik. hmmm
part2 yg budak tu kena jawab soalan 20million tu cam kelakar je.
sebabnya..budak tu dari kecik dok sebok pasal 3 musketeers.. tetiba soklan last pasal bende tu..