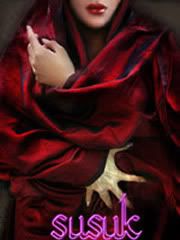 watch this last night. at first i tried to convince hubby to watch it on Sunday. his usual reply
"what for watching malay movie... just wait for hari raya. for sure they will air it that time"
ehem
i dont normally watch malay movie at cinema. don't know why this time teringin sangat nak watch this movie.
then yesterday after office hour, i went to cineleisure and bought 1 ticket to watch it. since hubby mentioned earlier that he'll be late (got to submit TC).
after getting the ticket. i call him to inform that i'll be late as well...end up he is actually on the way home.
so..apa lagi.. pujuk2 soh teman me tgh citer seram tu jugak la. ehehehehe... (ada hati tu nak tengok citer seram sorang2...hak hak hak..cam tak percaya je)
cepat2 gi beli tiket satu lagi. sib baik laa ada lagi tiketnya.. hek... sebaris tu pon kosong lagi :D
ehem. saya memang penakut tengok citer2 serem nih..ha ha ha. sampai hubby naik fed up. sikit2 tutup muka ngan tangan. kikikiki. buang duit je kata dia. baik tengok Dark Nite skali lagi. hampeh.
about the movie
story line dia lain dari malay movie nyer genre.
banyak flashback that you would not realise until the end of the movie. bila dah ends baru la terperasan. oooooooooooo.. masa diana rafar nyer watak is a flashback rupanyaaaaaaaaaaaaa.
i like this movie!
sebab kena pikir2 sket bila movie dah abes.