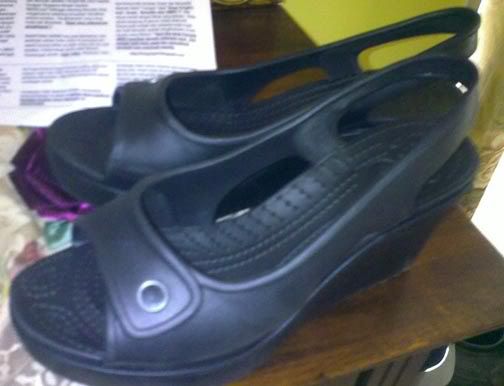 i bought this shoes through someone over the net. it was supposed to arrived through post laju on Thursday 15 October. tunggu punya tunggu kasut tu tak sampai2.
Then i ask the seller reference number. bila track online the item safely delivered on the said date! by a completely unknown ID to me. bukan Malaysian plak tuh. buyer sign in passport no. instead of IC#.
Then i inform the seller n i call post malaysia customer service. jawapan customer service tu lagi laa... kita plak di accuse nya or the seller yg dia accuse bagi nombor reference yg salah.
terus letak tepon sebab panas hati.
kind of redha je lah after that. cam insaf ke diri sebab sbelum ni dok meroyan shoping tak reti berhenti. ehehehehehhe. maybe its a sign from the Al Mighty soh me stop2 le meroyan shoping :D
but after that i did email post laju customer service to file a complaint. heheheheh
alih2...malam khamis22 October ada sorang maid datang ketuk pintu.
rupa2nya encik posmeng silap antar parcel tuh. instead of block E dia gi antar ke block D.
errrrr... nak kata 'E' yg ditulis kat sampul tu macam 'D' tak de la jugak. buta hurup ke apa.
buta huruf dua2.. posmeng n penerima. wahahahahhaah. geram betul!
tapi takde la marah2 kat maid tu. my happiness melebihi kemarahan time tu. HAPPY woo dapat gak kasut idaman.